United Arab Emirates
Dubai
Hire a Private Jet to Dubai using JetFlo's charter services
 Dubai Unveiled: Private Jet Charter to the Jewel of the Middle East
Are you ready to experience a world where opulence, innovation, and culture intersect amidst the shimmering sands? Look no further! Our private jet charter company offers an exclusive travel experience, allowing you to hire a Private Jet to Dubai and immerse yourself in the extraordinary allure of this Middle Eastern gem.
Why Choose Private Jet Charter to Dubai?
Unparalleled Comfort: When you "Hire a Private Jet to Dubai" with us, you're choosing a journey of opulent luxury. Our private jets redefine travel, ensuring that your experience is as lavish as your destination.
Time Efficiency: Bid farewell to layovers and crowded terminals. Our direct flights to Dubai from virtually anywhere in the world save you precious hours, allowing you to maximize your time in this dynamic city.
Tailored Elegance: Experience the pinnacle of personalized service, gourmet dining, and supreme comfort throughout your flight. Our dedication to your satisfaction ensures that every aspect of your journey is seamless.
Privacy and Security: Travel with the utmost discretion and security. Our private jet charters prioritize your privacy and safety, providing you with peace of mind from takeoff to touchdown.
Dubai: Where Ambition Knows No Bounds
Upon arrival in Dubai, you'll find yourself in a city that invites you to explore its ambitious skyline and cultural treasures. Begin your journey at the world-famous Burj Khalifa, the tallest building in the world, offering panoramic views of the city.
Explore the historic Al Fahidi neighbourhood, where you'll encounter traditional Emirati architecture and the Dubai Museum, housed in a centuries-old fort. Stroll along the vibrant Dubai Creek and take an abra (traditional boat) ride to experience the city's trading heritage.
Culinary Extravaganza in Dubai
Dubai's culinary scene is an international gastronomic journey. Savour Middle Eastern delights, indulge in fine dining at Michelin-starred restaurants, and explore bustling food markets like the Spice Souk and Gold Souk. Don't miss trying local specialties like shawarma, falafel, and Emirati seafood dishes.
Modern Marvels and Entertainment
Dubai is synonymous with innovation and entertainment. Experience the thrill of indoor skiing at Ski Dubai, shop at some of the world's largest malls, and marvel at architectural wonders like the Palm Jumeirah and the Dubai Opera. Enjoy a desert safari, take a dip in the clear waters of the Arabian Gulf, or attend world-class events and performances.
Art and Culture Oasis
Dubai is also home to a burgeoning arts and culture scene, with galleries and museums like Alserkal Avenue and the Dubai Opera District hosting contemporary and classical performances, exhibitions, and cultural events.
What to do in Dubai?
Dubai offers a dazzling array of experiences that cater to all interests. At the top of the list is the iconic Burj Khalifa, where you can enjoy breathtaking views of the city from the world's tallest skyscraper. For those seeking adventure, desert safaris, and dune bashing in the Arabian Desert provide an adrenaline rush. Dubai's culinary scene is a global feast, with Michelin-starred restaurants and bustling street markets offering delectable dishes from around the world. Shoppers can explore the city's vast malls or haggle for gold and spices in the traditional souks. Don't miss a visit to the historic Al Fahidi neighborhood and the Dubai Museum for a glimpse into the city's heritage. Entertainment options abound, from indoor skiing at Ski Dubai to waterparks and world-class performances at venues like the Dubai Opera. Whether you're fascinated by modern architecture, cultural experiences, or simply indulging in luxury, Dubai promises an unforgettable adventure.
 Your Dubai Odyssey Awaits
Dubai beckons with its breathtaking modernity, cultural richness, and unmatched luxury, and our private jet charter services ensure that your journey is as extraordinary as the destination itself. So why wait? Hire a Private Jet to Dubai today and immerse yourself in the splendour of this desert metropolis. Let us be your gateway to Dubai's audacious ambitions, ensuring you arrive in style, comfort, and luxury. Discover the city's wonders, create memories that will last a lifetime, and experience the essence of Emirati hospitality in the heart of Dubai. Your unforgettable Arabian adventure awaits!
Airports
Dubai International Airport, Dubai (IATA: DXB, ICAO: OMDB)
Al Maktoum International Airport, Dubai (IATA: DWC, ICAO: OMDW)
Experience Dubai through our recommendations
Hotel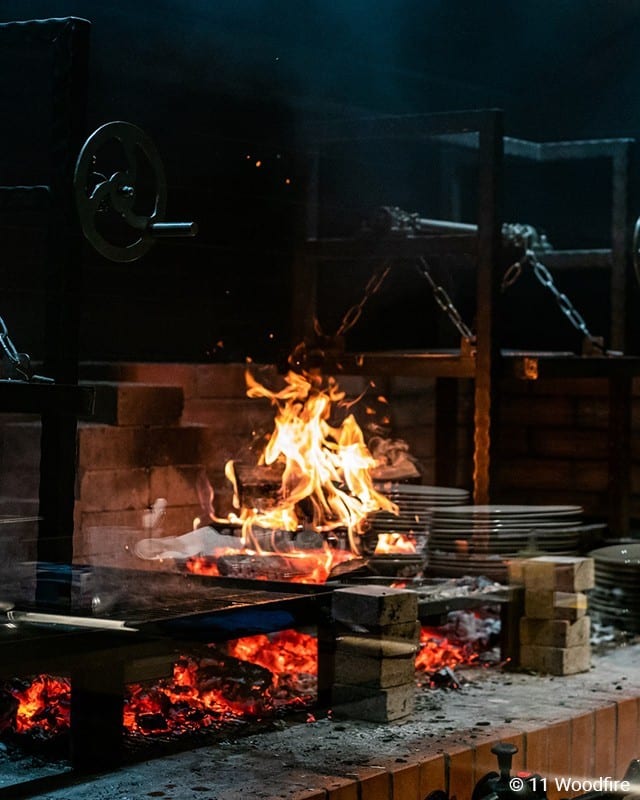 Restaurants and Bars
Activities
For your stay in Dubai, we recommend the One and Only Royal Mirage at Jumeirah Beach overlooking the Arabian Gulf. This luxury resort has beautiful gardens, exquisite cuisine from all over the world and leisure facilities adapted to all your needs. If you are planning in advance and looking for an escape from the big city lifestyle, take a look at the Bab Al Shams Desert Resort and Spa, the luxury desert getaway reopening after extensive remodelling in April 2023.
One and Only Royal Mirage, King Salman Bin Abdulaziz Al Saud St, Dubai Marina, Dubai, United Arab Emirates
Bab Al Shams Desert Resort, Al Qudra Road, Opposite Endurance City, Dubai, United Arab Emirates
Dubai has a great and competitive dining scene, so it can be hard to make a choice if you are only here for a short stay. 11 Woodfire, led by the chef Akmal Anuar, is an open-kitchen style restaurant specialised in cooking meat, fish and vegetables over an open fire. Set in a converted private villa, this Michelin-starred restaurant has a chic yet casual industrial design and offers an exciting and unique meal grilled to perfection.
11 Woodfire, ​​Villa 11 75B St, Jumeirah, Jumeirah 1, Dubai, United Arab Emirates
Discover Fashion Avenue, the incredible annex to Dubai Mall which has fascinating architectural features and over 200 designer brand outlets. This part of the mall is the embodiment of personalized luxury: there are VIP valets, expert personal shoppers and more, making your shopping experience completely hassle-free. If you are interested in luxury automobiles and precious jewelry, the rest of the Dubai Mall has everything to offer!
Dubai Mall, Financial Centre Street, Along Sheikh Zayed Road, Next to Burj Khalifa, Dubai, United Arab Emirates
Fashion Avenue, Financial Centre Road, Downtown Dubai, Dubai, United Arab Emirates
This price information is for reference only on a one way trip. Should you be flying back to your departure destination, the price will not be multiplied by 2. Many parameters will impact the overall journey price. Our charter expert will provide you with all the details. Do not hesitate to contact us (Fly@jetflo.com tel +4122886 0900) should you have any questions in the organisation of your private jet trip to "Olbia".