Hire a Private jet to Olbia using JetFlo's charter services
Experience the Rich Tapestry of New Delhi: Private Jet Charter to India's Capital
Are you yearning for an adventure that combines ancient heritage, vibrant culture, and modern dynamism? Look no further! Our private jet charter company offers an exclusive travel experience, allowing you to "Hire a Private Jet to New Delhi" and immerse yourself in the captivating charm of India's capital city.
New Delhi: Where Past Meets Present
New Delhi, the heart of India, is a city where centuries-old history coexists seamlessly with contemporary progress. As a cultural melting pot, it boasts magnificent architecture, rich traditions, and a kaleidoscope of flavours that make it a traveler's paradise.
Why Choose Private Jet Charter to New Delhi?
Ultimate Comfort: When you "Hire a Private Jet to New Delhi" with us, you're choosing a journey of unmatched luxury. Our private jets redefine travel, ensuring your experience is as memorable as your destination.
Time Efficiency: Bid farewell to layovers and crowded terminals. Our direct flights to New Delhi from anywhere in the world save you valuable time, allowing you to focus on your exploration.
Tailored Elegance: Experience the pinnacle of personalised service, gourmet dining, and unparalleled comfort throughout your flight. Our commitment to your satisfaction ensures every aspect of your journey is seamless.
Privacy and Security: Travel with the utmost discretion and security. Our private jet charters prioritise your privacy and safety, providing you with peace of mind from takeoff to touchdown.
New Delhi: A City of Marvels
Upon your arrival in New Delhi, you'll be greeted by a city that invites you to embark on a journey through time. Begin your exploration at the iconic India Gate, a tribute to the nation's fallen soldiers. Admire the grandeur of the Rashtrapati Bhavan, the official residence of the President of India.
The UNESCO-listed Humayun's Tomb, a masterpiece of Mughal architecture, is a must-visit, as is the Qutub Minar, a towering monument dating back to the 12th century. Immerse yourself in spirituality at the Lotus Temple and the Akshardham Temple, where intricate designs and serene surroundings inspire contemplation.
A Culinary Odyssey
New Delhi is a food lover's paradise, offering a myriad of flavours from across India. Sample iconic street food like chaat and parathas, or savour North Indian classics like butter chicken and biryani at renowned restaurants. Don't forget to indulge in the sweetness of Indian desserts like gulab jamun and jalebi.
Art and Culture Galore
Explore New Delhi's cultural scene by visiting institutions like the National Museum, the National Gallery of Modern Art, and the Crafts Museum. Witness traditional Indian performing arts like Kathak dance and Hindustani classical music for a glimpse into the city's vibrant artistic heritage.
Nature's Respite
For moments of tranquility, visit the lush gardens of Lodi Gardens or escape the hustle and bustle with a peaceful walk through the Lodhi Art District. These green oases provide a welcome retreat from the urban hustle.
Your Delhi Adventure Awaits
New Delhi invites you to uncover the magic of India's capital, and our private jet charter services ensure your journey is as extraordinary as the destination itself. So why wait? Hire a Private Jet to New Delhi today and immerse yourself in the splendour of India's cultural, historical, and culinary treasures. Let us be your gateway to New Delhi's vibrant spirit, ensuring you arrive in style, comfort, and luxury. Discover the city's wonders, create memories that will last a lifetime, and experience the essence of Indian hospitality in the heart of New Delhi. Your journey to this incredible city awaits!
Airports
Indira Gandhi international airport (IATA: DEL, ICAO: VIDP)
Experience New Delhi through our recommendations
Hotel
Restaurants and Bars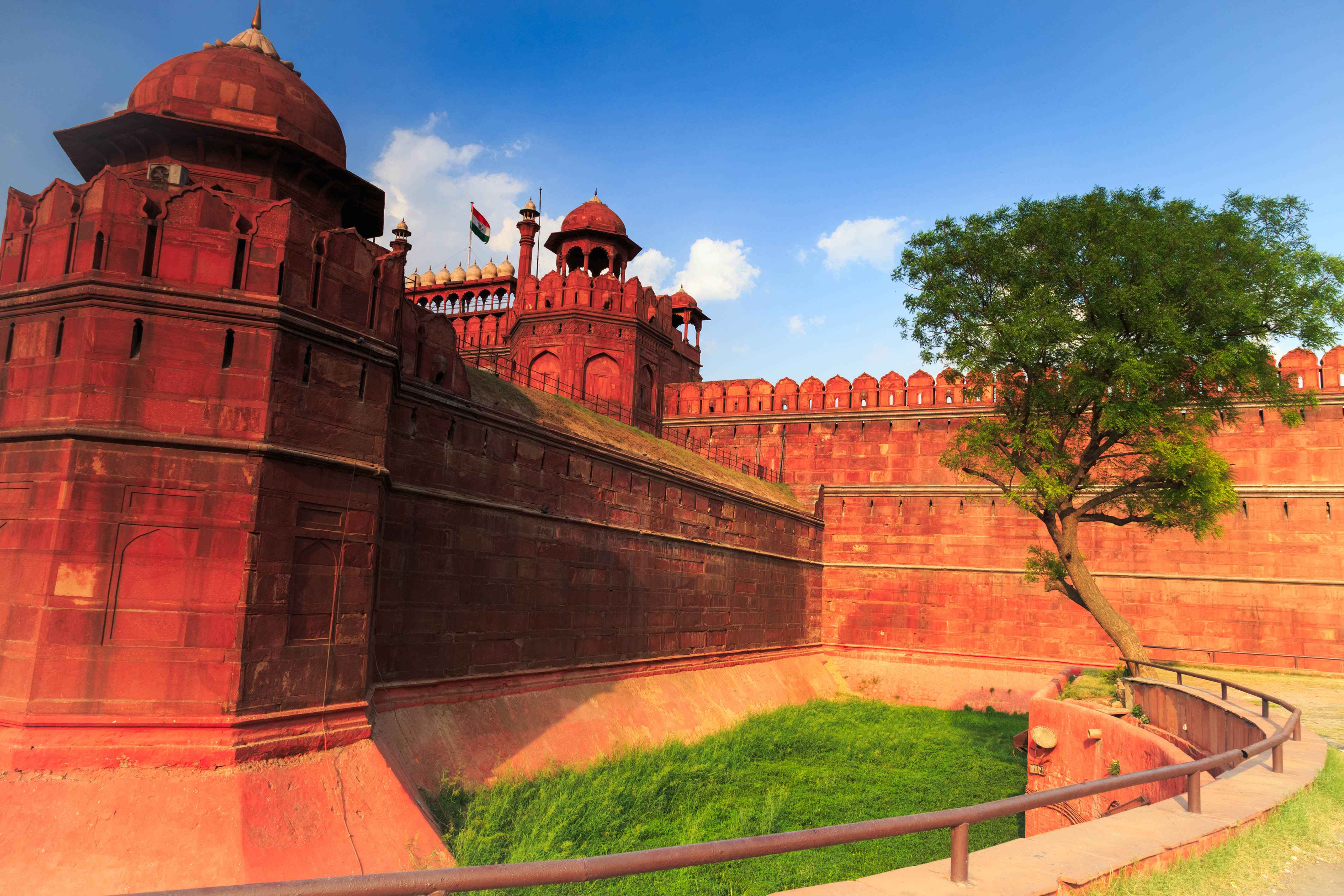 Activities
Enjoy the opulent offerings that have earned this facility the title of second-best city hotel in Asia. This spectacular, contemporary palace is a perfect expression of the city's rich legacy, from its design and decor to its cuisine and hospitality. The Suraksha commitment towards health and hygiene, along with its proximity to the airport and Lutyens' Delhi, make this 5-star hotel the ideal choice for city explorers, history fans, and frequent traveler's alike. 
The Leela Palace New Delhi– Diplomatic Enclave, Chanakyapuri, New Delhi 110 023 
Bukhara is the most authentic experience of traditional Indian cuisine. Make your palate travel in a calm and refined atmosphere and marvel at the colours and flavours of Indian cuisine in the heart of the megalopolis.
TC MAURYA, Sardar Patel Marg, Akhaura Block, Diplomatic Enclave, Chanakyapuri, New Delhi, Delhi 110021, Inde
The city holds a lot of awesome places to visit like the Red Fort- The planning and designing of the fort is a fusion of Mughal, Persian, Hindu, and Timurid traditions, Akshardham Temple – World's largest comprehensive Hindu temple in the Guinness World Record, India Gate, Qutub Minar and Humayun's Tomb and best restaurant to taste the best spicy foods in the world. We will also recommend you some best luxury hotels for your stay during your visit in New Delhi.