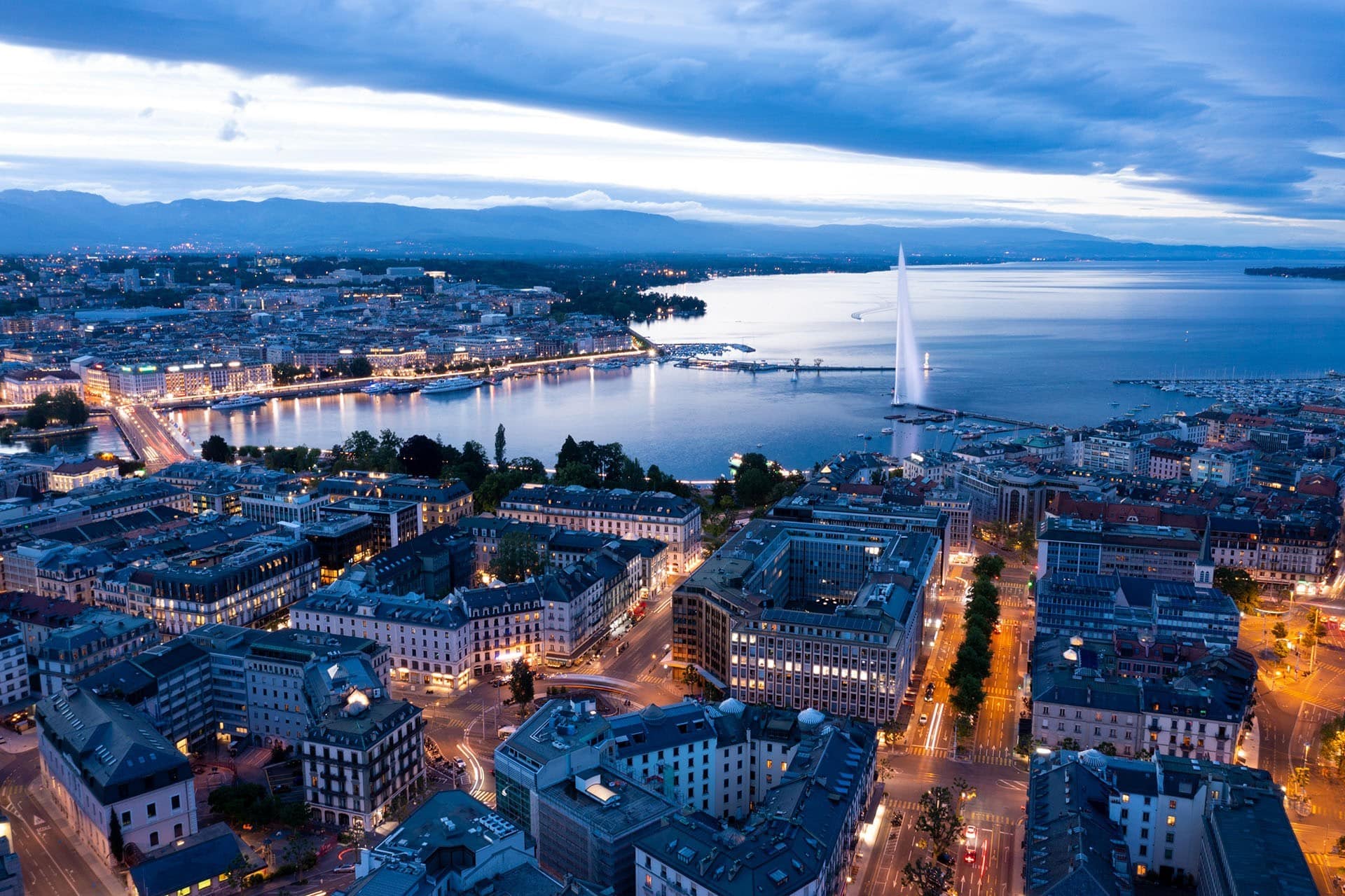 Hire a Private Jet to Geneva using JetFlo's charter Services
Elevate Your Journey: Private Jet Charter to Geneva
Are you yearning for a journey that combines stunning natural beauty, cosmopolitan charm, and unparalleled luxury? Look no further! Our private jet charter company offers an exceptional travel experience, allowing you to "Hire a Private Jet to Geneva" and immerse yourself in the enchanting world of Switzerland's picturesque city.
Geneva: The Jewel of Switzerland
Nestled on the shores of Lake Geneva and surrounded by the Swiss Alps, Geneva is a city that effortlessly merges natural splendor with international sophistication. As a global hub for diplomacy, finance, and culture, Geneva is renowned for its pristine landscapes and rich cultural heritage.
Why Choose Private Jet Charter to Geneva?
Unmatched Comfort: When you "Hire a Private Jet to Geneva" with us, you're choosing unparalleled comfort. Our private jets ensure that your journey is not only comfortable but also an experience to remember.
Time Efficiency: Save precious time with direct flights to Geneva from virtually any destination in the world. Bypass the crowded terminals and lengthy layovers, arriving at your destination swiftly and hassle-free.
Tailored Luxury: Enjoy the pinnacle of personalised service, fine dining, and supreme comfort throughout your flight. Our commitment to your satisfaction is unwavering.
Privacy and Safety: Travel discreetly and securely. Our private jet charters prioritise your privacy and safety, allowing you to relax and savour your journey with peace of mind.
Geneva: A World of Delights
Upon landing in Geneva, you'll be captivated by the city's breathtaking views, pristine parks, and the iconic Jet d'Eau fountain. Stroll along the picturesque shores of Lake Geneva, visit the historic Old Town, and explore cultural gems like the Museum of Art and History.
For those with a passion for gastronomy, Geneva boasts a vibrant culinary scene that caters to every palate. Sample Swiss chocolates, savour delectable fondue, or indulge in international cuisine at world-class restaurants.
A Cultural Oasis
Geneva's rich cultural heritage is on display at institutions like the Red Cross Museum, the Museum of Natural History, and the United Nations Office at Geneva. Immerse yourself in the city's history and gain a deeper understanding of its global significance.
Nature's Playground
Surrounded by the majestic Alps, Geneva is a haven for outdoor enthusiasts. In both winter and summer, you can embark on hiking adventures, enjoy winter sports, or simply revel in the serene beauty of the Swiss countryside.
Your Swiss Adventure Awaits
Geneva beckons with its natural beauty, cultural treasures, and international allure. With our private jet charter services, you can make the journey as remarkable as the destination itself. So, why wait? "Hire a Private Jet to Geneva" today and immerse yourself in the splendor of Switzerland's most captivating city. Let us be your gateway to Geneva's grandeur, ensuring you arrive in style, comfort, and luxury. Discover the city's treasures, create lasting memories, and experience the essence of Swiss hospitality in the heart of Geneva.
Airports
Geneva Cointrin International Airport (IATA: GVA, ICAO: LSGG)
Experience Geneva through our recommendations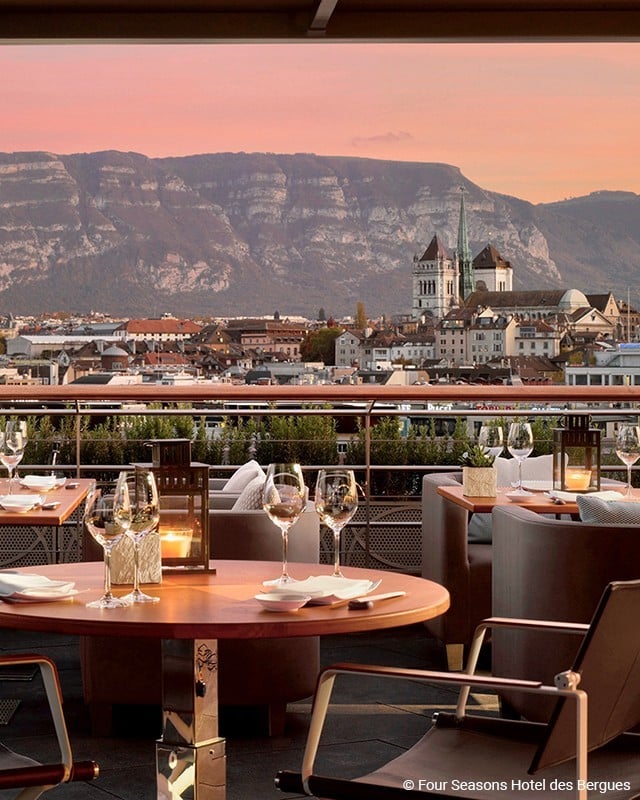 Hotel
Restaurants and Bars
Activities
For your stay in Geneva, we recommend the iconic Four Seasons Hotel des Bergues which is set on the docks of Lake Geneva. Perfectly placed for gorgeous views of the lake and the Alps, it offers high end treatment for its guests and personalised service. The beautiful rooms, rooftop spa and Michelin-starred Japanese restaurant Izumi are all guaranteed to make your stay a luxury experience.
Four Seasons Hotel des Bergues, Quai des Bergues 33, 1201 Genève, Switzerland
If you are looking for a vintage bistro in the heart of Geneva, Le Bologne offers an intimate yet popular atmosphere with high quality seasonal produce. Located right next to the city's Fine Arts School, the bistro is the perfect spot to dine after a walk along Lake Geneva.
For an incredible two Michelin-starred dining experience, we recommend booking a table d'hôte at the Domaine de Châteauvieux, a short 20 minute drive from the city centre. The restaurant promises traditional cuisine with only the best produce in a unique location surrounded by vineyards.
Le Bologne, Rue Necker 11, 1201 Genève, Switzerland
Le Domaine de Châteauvieux, Chemin de Châteauvieux, Peney-Dessus 16, 1242 Satigny, Switzerland
When strolling through the streets of Geneva, make sure you visit the Saint Pierre Cathedral in the old town. A Gothic cathedral with an 18th century Neoclassical façade, it is a site you absolutely mustn't miss. A short walk through the busy terrasses of the beautiful Place du Bourg-de-Four and you should arrive at the Museum of Art and History which has a large collection spanning from the prehistoric period to the modern era.
Saint Pierre Cathedral, 1204 Genève, Switzerland
Place du Bourg-de-Four, 1204 Genève, Switzerland
Museum of Art and History, Rue Charles-Galland 2, 1206 Genève, Switzerland
This price information is for reference only on a one way trip. Should you be flying back to your departure destination, the price will not be multiplied by 2. Many parameters will impact the overall journey price. Our charter expert will provide you with all the details. Do not hesitate to contact us (Fly@jetflo.com tel +4122886 0900) should you have any questions in the organisation of your private jet trip to "Geneva".