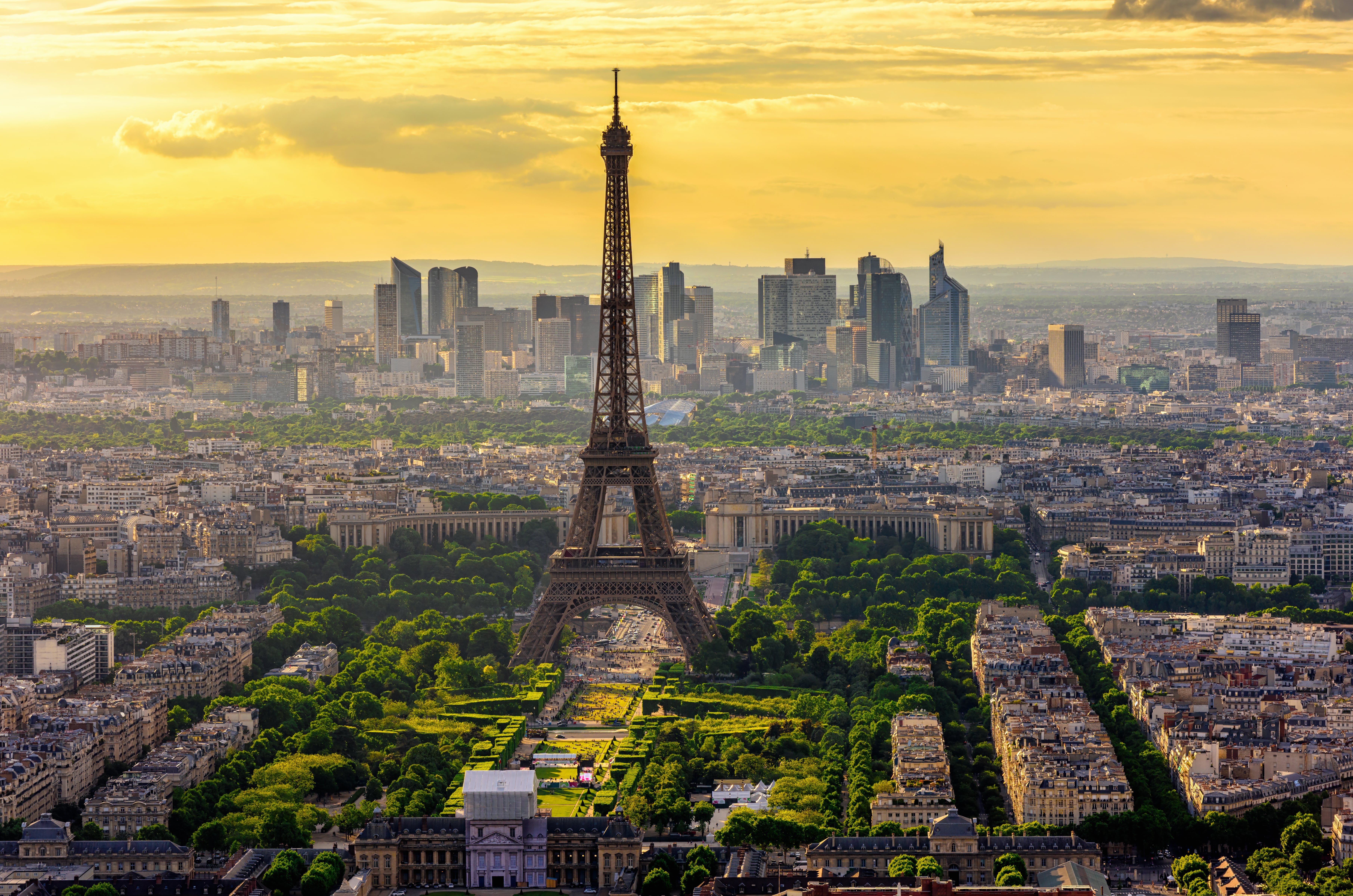 Hire a Private Jet to Paris using JetFlo's charter services 
Discover the Timeless Magic of Paris: Private Jet Charter to the City of Lights
Paris, the capital of France and the epitome of elegance, is a city steeped in history that dates back over two thousand years. Its origins can be traced to the Parisii, a Celtic tribe that settled on the Île de la Cité in the third century BC. The city's name, Paris, is derived from their name.
Throughout its long and storied history, Paris has been a focal point of political power, culture, and art. It was a significant center of learning during the Middle Ages and became the royal capital in the 12th century. The Renaissance brought an explosion of artistic creativity, exemplified by the construction of iconic landmarks like the Louvre and Notre-Dame Cathedral.
The 18th century witnessed a period of enlightenment and revolution, with the French Revolution forever altering the city's social and political landscape. Paris became a beacon of culture in the 19th century, with literary giants like Victor Hugo and Emile Zola shaping the city's intellectual scene.
In the 20th century, Paris endured two World Wars but emerged as a global symbol of resilience and artistic innovation. Today, the city continues to captivate visitors with its rich history, stunning architecture, and cultural significance, making it a timeless and enchanting destination.
Are you yearning for an enchanting journey filled with iconic landmarks, artistic treasures, and unparalleled romance? Look no further! Our private jet charter company offers an exclusive travel experience, allowing you to hire a Private Jet to Paris and immerse yourself in the captivating charm of the City of Lights.
Paris: Where Dreams Come to Life
Paris, the capital of France, is a city where history, culture, and beauty converge. With its world-famous landmarks, world-class cuisine, and artistic legacy, Paris offers an unparalleled travel experience that will leave you spellbound.
Why Choose Private Jet Charter to Paris?
Unrivalled Comfort: When you hire a Private Jet to Paris with us, you're choosing a journey of unparalleled luxury. Our private jets redefine travel, ensuring your experience is as memorable as your destination.
Time Efficiency: Say goodbye to layovers and crowded terminals. Our direct flights to Paris from virtually anywhere in the world save you precious hours, allowing you to maximise your time in the City of Lights.
Tailored Elegance: Experience the pinnacle of personalised service, gourmet dining, and supreme comfort throughout your flight. Our dedication to your satisfaction ensures every aspect of your journey is seamless.
Privacy and Security: Travel with the utmost discretion and security. Our private jet charters prioritise your privacy and safety, providing you with peace of mind from takeoff to touchdown.
Paris: A Symphony of Sights
Upon your arrival in Paris, you'll be transported to a city that invites you to explore its timeless treasures. Begin your journey with a visit to the Eiffel Tower, an iconic symbol of Paris that offers breathtaking views of the city from its summit.
Wander along the romantic Seine River and explore historic neighbourhoods like Le Marais and Montmartre. Discover cultural landmarks such as the Louvre Museum, home to the Mona Lisa, and the Notre-Dame Cathedral, a masterpiece of Gothic architecture.
Gastronomic Paradise
Paris is renowned for its culinary excellence. Savour traditional French cuisine at charming bistros, indulge in delectable pastries at patisseries, and enjoy fine dining at Michelin-starred restaurants. Don't forget to explore local markets like Rue Mouffetard and Rue Cler for fresh produce and gourmet delights.
Art and Culture Abound
Immerse yourself in Paris's artistic heritage by visiting world-class museums like the Musée d'Orsay and the Centre Pompidou. Experience the vibrant arts scene with live performances at historic venues like the Opéra Garnier and the Théâtre du Châtelet.
Gardens and Parks
Relax in the city's beautiful gardens and parks, including the Luxembourg Gardens, Tuileries Garden, and Parc des Buttes-Chaumont. These green oases provide tranquil escapes from the urban hustle and bustle.
 Your Parisian Adventure Awaits
Paris beckons with its timeless beauty, cultural riches, and romantic ambiance, and our private jet charter services ensure your journey is as extraordinary as the destination itself. So why wait? Hire a Private Jet to Paris today and immerse yourself in the splendour of the City of Lights. Let us be your gateway to Paris's enchanting allure, ensuring you arrive in style, comfort, and luxury. Discover the city's wonders, create memories that will last a lifetime, and experience the essence of French hospitality in the heart of Paris. Your unforgettable Parisian adventure awaits!
Airports
For your trip to Paris, JetFlo recommends to use Paris-Le Bourget Airport, Paris (IATA: LBG, ICAO: LFPB)
Toussus-le-Noble Airport, Toussus le Noble (IATA, TNF, ICAO: LFPN)
Alternatively, JetFlo can also book a helicopter transfer into Paris Heliport located in Issy-les-Moulineaux only a few minutes away from the centre of Paris
Experience Paris through our recommendations
Hotel
Restaurants and Bars
Activities
For your getaway to Paris, we recommend Le Bristol, a luxury hotel located on rue du Faubourg Saint-Honoré in the heart of the eighth arrondissement. Part of the Oetker Collection, this private utopia promises excellent hospitality, gorgeous gardens for some tranquillity, and a spa with an indoor swimming pool offering views over Montmartre and the Eiffel Tower.
Le Bristol Paris, 112 Rue du Faubourg Saint-Honoré, 75008 Paris, France
For inventive cuisine and hand-picked wines to accompany your meal, try Le Servan in the eleventh arrondissement, a delicious French bistro with an Asian twist. Just a short walk away from the Atelier des Lumières, one can enjoy an afternoon rich in culture by visiting the dynamic exhibitions which explore art in an exciting and modern way.
Le Servan, 32 rue Saint-Maur, Paris, 75011, France
Atelier des Lumières, 38 Rue Saint-Maur, 75011 Paris, France
Enjoy La Samaritaine's luxury shopping experience right in the city centre and take the time to observe its incredible Art-Nouveau facade. Ideally located on the Seine next to the Louvre Museum and the beautiful Pont des Arts, this department store filled with designer and artisanal brands can be the last stop after a cultivated morning!
La Samaritaine, 9 rue de la Monnaie, 75001 Paris, France
Musée du Louvre, Rue de Rivoli, 75001, Paris, France
This price information is for reference only on a one way trip. Should you be flying back to your departure destination, the price will not be multiplied by 2. Many parameters will impact the overall journey price. Our charter expert will provide you with all the details. Do not hesitate to contact us (Fly@jetflo.com tel +4122886 0900) should you have any questions in the organisation of your private jet trip to "Olbia".