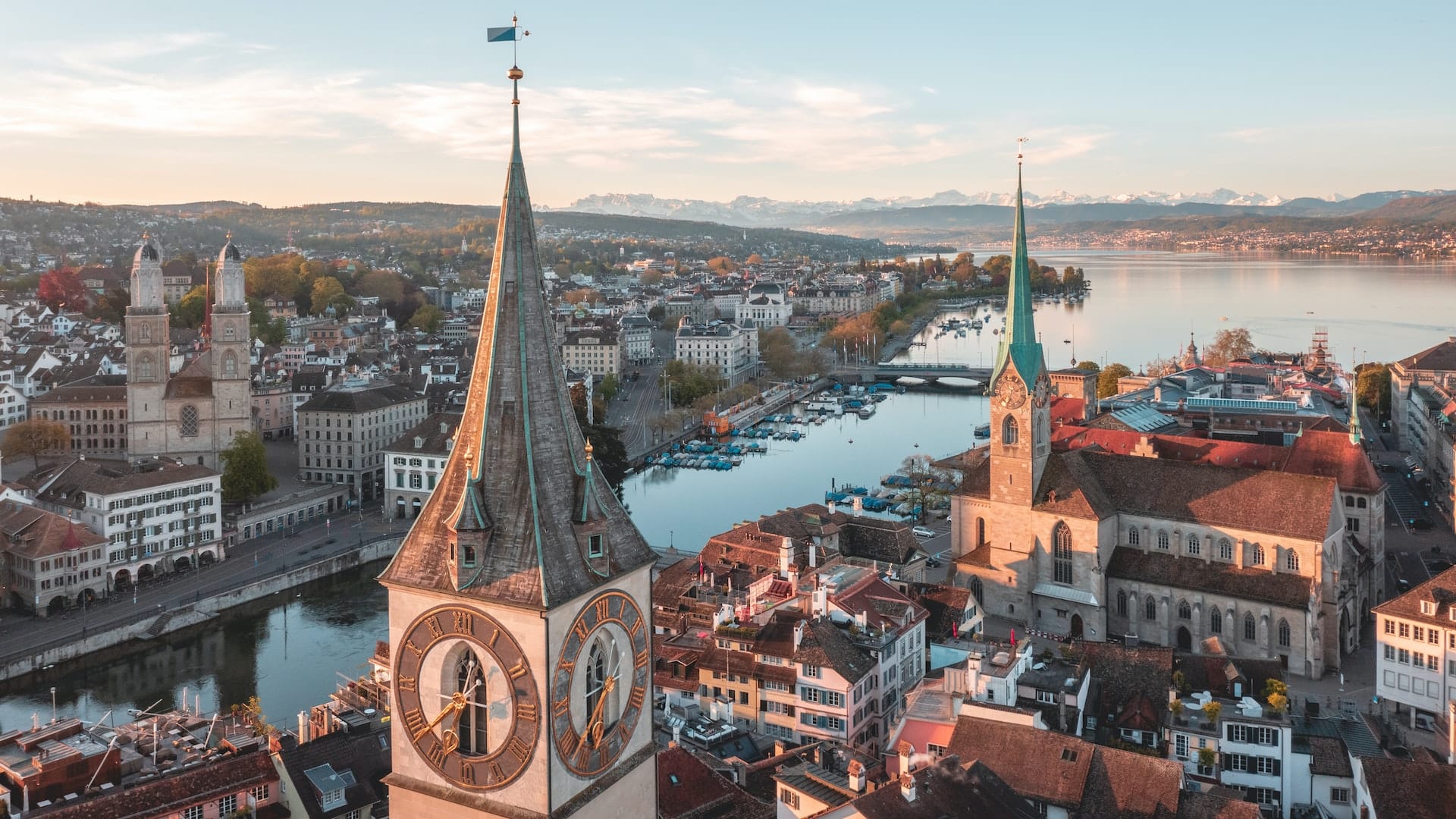 Hire a Private Jet to Zurich using JetFlo's services 
Discover Zurich's Luxury with Private Jet Charters
When it comes to experiencing the pinnacle of luxury and convenience, look no further than Zurich, Switzerland. Hiring a private jet to Zurich is your ticket to an unforgettable journey that perfectly complements the city's elegance and sophistication. Zurich Airport (ZRH) welcomes you with open arms, ensuring your arrival is as seamless as your entire stay.
Effortless Arrival and Departure with Private Jet Charters to Zurich
Hiring a private jet to Zurich offers a stress-free and expedited travel experience, sparing you the inconveniences of commercial terminals. Your Zurich adventure begins and concludes at your leisure, granting you more time to fully immerse yourself in this captivating destination.
Zurich's Cultural Tapestry: A Must-See for Private Jet Travelers
For private jet travelers, Zurich unfolds its rich cultural tapestry with every step. The Old Town (Altstadt) boasts cobblestone streets, medieval architecture, and charming alleyways. Iconic landmarks like the Grossmünster and Fraumünster are must-visit attractions. Zurich's renowned Swiss National Museum beckons history enthusiasts, while the Zurich Opera House promises unforgettable performances.
Gourmet Delights and Culinary Adventures: A Reason to Hire a Private Jet to Zurich
Zurich's culinary scene is nothing short of a gastronomic delight. When you hire a private jet to Zurich, you're in for a treat. Indulge in Swiss classics like fondue, raclette, and rösti at traditional eateries. For the ultimate culinary adventure, dine at Michelin-starred restaurants, where exquisite Swiss wines complement world-class cuisine. Don't miss out on sampling delectable Swiss chocolate and pastries at local confectioneries.
Embrace Natural Beauty with Private Jet Charters in Zurich
For travelers who hire a private jet to Zurich, the Swiss Alps provide a stunning backdrop for exploration. Arrange a private excursion to delve into the picturesque landscapes of the Swiss countryside. Hike the nearby mountains, enjoy leisurely drives through pristine valleys, or embark on a private boat trip on Lake Zurich.
Exclusive Accommodations and Services for Private Jet Travelers
Zurich offers a range of luxurious accommodations tailored to discerning private jet traveler's. Whether you prefer historic hotels overlooking the city or contemporary lakeside resorts, Zurich has it all. Enhance your stay with personalised concierge services, securing reservations at renowned restaurants, arranging private boat tours on Lake Zurich, or curating bespoke experiences that align with your preferences.
Vibrant Nightlife in Zurich for Private Jet Travelers
As twilight sets in, Zurich unveils a vibrant nightlife scene that caters to private jet traveler's seeking entertainment. Explore the city's stylish bars, lounges, and clubs. Attend cultural events, concerts, and theater performances that showcase Zurich's artistic spirit. A moonlit stroll along the shores of Lake Zurich, with the city lights shimmering on the water, is an experience best enjoyed by private jet traveler's.
 Zurich, Where Every Moment Becomes a Masterpiece for Private Jet Traveler's
Zurich, Switzerland, seamlessly blends tradition, culture, and natural beauty. Hiring a private jet to Zurich ensures your journey is as extraordinary as your destination. Immerse yourself in the city's timeless charm, savour gourmet delights, and explore the breathtaking Swiss landscapes—all while enjoying the unmatched convenience and luxury of private jet travel. Contact us today to plan your private jet charter to Zurich and experience a journey where every moment becomes a masterpiece.
Contact your JetFlo representative today to hire a private jet to Zurich and embark on an unforgettable adventure.
Airports
Zurich Airport, Zurich (IATA: ZRH, ICAO: LSZH)
Experience Zurich through our recommendations
Hotel
Restaurants and Bars
Activities
Although it establishes a remote ambiance with views on Lake Zurich and the Alps, the Baur au Lac Hotel is right in the heart of the city. This grand palace hotel has a gorgeous garden overlooking the lake and, like the city itself, perfectly balances urban life with nature. Renowned for its excellent service, the Baur au Lac Hotel is the ideal place to drop off your bags after flying private with JetFlo.
Baur au Lac, Talstrasse 1, 8001 Zürich, Switzerland
Make the most of Zurich's shopping experience by strolling down one of the most luxurious and exclusive streets, the Bahnhoffstrasse. Decorated with outlets of the most famous fashion houses and the country's renowned jewellers and watchmakers, this main road is well worth the visit. Just off the Bahnhofstrasse is our favourite restaurant, Ornellaia, an Italian gem located in a beautiful former bank building. The amazing surroundings and exquisite food will not disappoint you!
Bahnhofstrasse, 8001 Zürich, Switzerland
Ornellaia, St. Annagasse 2, 8001 Zürich, Switzerland
If you are interested in seeing the picturesque Old Town, we recommend the Lindenhof, a historic square which offers panoramic views of the city. On the other side of the Limmat river, enjoy the Rosenhof Markt, a legendary outdoor market open on Saturdays between March and November which always has a handful of objects and jewellery to spike your interest.
Lindenhof, 8001 Zürich, Switzerland
Rosenhof Markt, Weingasse, 8001 Zürich, Switzerland
| | FROM | | | TO | FLIGHT TIME | AIRCRAFT TYPE | SEATS | AIRCRAFT CATEGORY | FLIGHT STARTING FROM |
| --- | --- | --- | --- | --- | --- | --- | --- | --- | --- |
| | London | | | Zurich | 1h38 | Citation Mustang | 4 | Very Light Jet | 8,600 € |
| | Luxemburg | | | Zurich | 0h45 | Phenom 300E | 8 | Super Light Jet | 8,500 € |
| | Istanbul | | | Zurich | 2h39 | Learjet 60XR | 6 | Midsize Jet | 24,700 € |
| | Dubai | | | Zurich | 6h37 | Falcon 2000LX | 10 | Heavy Jet | 66,300 € |
| | Chicago | | | Zurich | 8h10 | Global 5000 | 12 | Ultra-Long Range | 125,600 € |
This price information is for reference only on a one way trip. Should you be flying back to your departure destination, the price will not be multiplied by 2. Many parameters will impact the overall journey price. Our charter expert will provide you with all the details. Do not hesitate to contact us (Fly@jetflo.com tel +4122886 0900) should you have any questions in the organisation of your private jet trip to "Zurich".